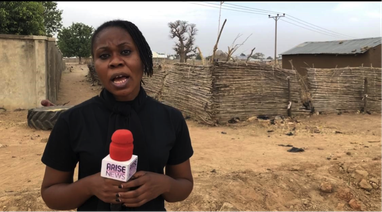 A personal account by journalist Amaka Okoye
On Friday 9 April, ahead of the seventh anniversary of the abduction of the 'Chibok Girls', I went to Chibok with the sole purpose of documenting firsthand the experiences of parents and relatives of the still missing schoolgirls and speaking to those girls who made it back to Chibok either through government efforts or by escaping. 
Contrary to what the media, whose presence is almost non-existent due to the level of volatility, would have you believe there are indeed villages that have now fallen into the hands of terrorists. There are villages that are now completely deserted and where there is no sign of life - not even animals.
The route into Chibok has to the right and the left hills and cliffs from where the terrorists emerge and regularly attack their victims and kill them in their scores (you will certainly not find this in the media!).
From Yola to Chibok, a distance of about 270 kilometers, I counted over 10 military checkpoints. I saw a lot of young military personnel who were only holding on to a gun for their own safety. 
I saw at several checkpoints a solitary member of military personnel, standing right under the scorching sun and completely by himself in the middle of nowhere. And I wondered, should there be an attack, how can this one soldier defend himself or the people he is supposed to be safeguarding? Sadly, I must conclude that the military personnel are under-equipped. 
Before arriving in Chibok, you pass several lonely paths, with neither human beings nor animals but just a few cars plying the deplorable roads which make every passenger vulnerable should there be an attack. There is absolutely no means of escape. Again, I asked myself, whatever happens to the monies allocated for roads and infrastructure? How do people who are already a soft target of armed terrorists not have usable road networks? Who are the government officials representing these areas? Have none of them seen the need to raise these issues at the federal level?
It was undeniable that we were on a risky journey. But because of our desire to give these parents an opportunity to speak out, to allow the world to know their reality, and out of an urge to tell the story of the 112 girls who left their homes to study but ended up kidnapped by armed terrorists on that fateful night of 14 April, 2014, I and the team (my cameraman and a local fixer) trudged on till we made it to our final destination - Chibok.
Escaping attack
We had travelled from Yola, in what we would call a smooth journey so far (though with a constant reminder from our fixer that "our lives are in God's hands"). We entered Askira and at the checkpoint, as usual, the lone military man asked us where we were coming from and headed to. Our driver told him we were headed into Chibok. He looked at him and said "It is not a good idea to proceed with the journey into Chibok, we sighted Boko Haram around and that is why we have asked the villagers to run into the bush''. 
We were petrified. I said to the driver, let's turn back immediately. But alas, that was not a good idea either because we would be making the journey back to Yola at night, which would be even more dangerous. We were only 15km from Chibok. We had a quick decision to make as time was of the essence. If we wanted to get to Chibok, it had to be before 5pm. After 5pm, there is no exit or entry into Chibok.
We could see men and women running into the bushes and others cycling. It was the scariest moment of my life, knowing that we were in a potentially dangerous situation already. The military personnel left us to make our decision ourselves. What could he possibly do for us? He also had his own life to protect. 
We decided to head into another village for a few hours before driving into Chibok. We got in safely!
Indeed, there was an attack that same day and over 40 people were killed, including women and children. Sadly, this was not a one-off. The villagers experience this constantly. Running into the hills with their children is a lifestyle. You wonder how do they cope? How is this existence possible within a democratic entity? How is this different from living in a war-torn area? Life is indeed tough for these people who have to continue in a reality they did not create for themselves or by any fault of their own. They just happen to be born there and have no place to run to.
A night in Chibok
We slept in the house of a retired police officer where we were assured of relative safety. The family looked unperturbed. Even though they acknowledged that their lives are not 'normal'. However, they have learned to adjust to this reality. 
Chibok has a concentrated level of military presence. The people see military personnel every day and this is a sign of hope and a reassurance of safety. But the question is, how equipped are these personnel? Can they possibly quell an attack on their own, relying on their equipment? The answer is obviously negative.
According to our guide who is an indigene himself, on many occasions the military personnel have had to run just as the villagers have because their attackers have more sophisticated weapons. 
Every male in Chibok sleeps with a gun or weapon by their side in anticipation of an attack. That night, the only ones without a gun were myself, my camera guy and the wife of our host. It was an incredibly scary experience.
I spent two days interviewing parents and former Chibok schoolgirls. It is incredibly heart wrenching that seven years on, some 112 girls are still not back. No one knows clearly what has become of them. Parents said what is more unnerving is the total silence from authorities. Are these girls still alive? Did they all die in captivity? These parents are asking for closure. 
Questions abound
Chibok was the first mass kidnapping of students in Nigeria which commanded global attention at the time with the hashtag BringBackOurGirls. Since then, there have been several other kidnappings, from Dapchi in Yobe State to Kankara in Katsina State, from Kagara in Niger State to Jangebe in Zamfara State, and most recently Afaka in Kaduna State. In all of these cases, most if not all the abductees have been released. What has happened to the remaining Chibok girls? Too many questions abound. 
Recall that when President Muhammadu Buhari assumed office, he promised Nigerians that he would wipe away the terrorists in six months. What happened to that promise?
Whereas the military boasts of taking back all the towns or villages from the terrorists and the Nigerian government says it has technically defeated Boko Haram, reliable sources from my interactions and interviews on that trip revealed that five local government areas out of the 27 in Borno State are still under the total control of Boko Haram terrorists. These areas include Marte, Abadam, Uzamala, Kalabalge and Bukawa, which is partially held by the terrorists. On the way into Chibok, we also saw villages deserted. Kumbla is one such. 
In all of these, more and more people who escape attacks end up as refugees in different internally displaced persons camps. Data from the UN Refugee Agency suggests that over 2.7 million persons have been internally displaced in northeastern Nigeria. And experts say internally displaced persons will continue to be a feature of Nigeria as long as the security situation persists.
My journey into Chibok and the whole experience left me even more worried about the security situation in Nigeria, how obviously deplorable it has become.
The Nigerian government says security is one of the hallmarks of the present administration. Sadly, it doesn't seem like the battle against insecurity is close to being over.